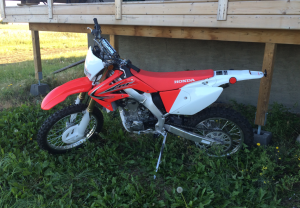 Maidstone RCMP are reminding the public to keep valuables out of sight in your vehicle – and to ensure your keys are with you when you leave your car or truck.
On Thursday evening near the Hillmond area, a 2013 Honda CRF 250X Dirt bike was stolen.
The dirt bike is is apparently nearly brand-new and was stolen from a vehicle.
Residents are also reminded to secure your vehicle when not being driven.
If you have information about this or any other crime, please contact Maidstone RCMP at 306-893-4800 or you may call Saskatchewan Crime Stoppers at 1-800-222-TIPS (8477)