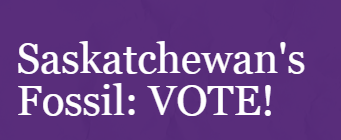 Saskatchewan will soon have a new provincial emblem – the provincial fossil.
You can cast your vote by visiting the Royal Saskatchewan Museum (RSM) website.
The RSM has been accepting paper votes since November 2015.
The public are now able to cast a vote online or in person until April 25, 2016.
The seven provincial fossil candidates represent fossils found in communities across Saskatchewan including Eastend, Herschel, Carrot River/Arborfield, Kyle and Ponteix.
The candidate list includes:
"Mo" the Ponteix Long-necked Plesiosaur, a giant marine reptile that lived 78 million years ago when the province was a shallow inland sea.
"Scotty" the Tyrannosaurus rex, found near Eastend in 1991, is one of the largest T. rex specimens ever found.
"Kyle Mammoth", a 12,000 year-old giant elephant-like Woolly Mammoth, was found in the 1960s.
The Herschel Short-necked Plesiosaur, a marine reptile, is a one-of-a-kind specimen.
The Brontothere, found in the Cypress Hills near Eastend, is a rhino-like mammal from 35 million years ago.
"Big Bert", the most complete and best-preserved specimen of this 92 million year-old crocodile was discovered along the bank of the Carrot River in 1991.
Thescelosaur, a species unique to Saskatchewan, is a plant-eating dinosaur known from the Frenchman River Valley where it was first discovered in 1968.
The Provincial Fossil Campaign 2016 also features a video competition aimed at Grade 7 students who are invited to submit videos promoting their choices for Saskatchewan's fossil.
The deadline for submissions has been extended to April 25.
The winning classroom will get a visit from RSM Palaeontologist Tim Tokaryk.