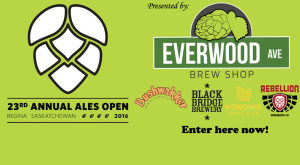 Beer and a lot of it will be flowing in Regina this week as the 23rd annual ALES Open Homebrew Competition takes place.
Event spokesperson Dave Freeman, who is one of the judges, says homebrews from across Canada will be vying for gold, silver and bronze medals in several categories.
Freeman says the Regina competition is the largest one in Canada.
The 23rd annual ALES Open will last all week.
Freeman says the craft brew industry, which has exploded over the past decade, can give credit to homebrewers for its success.