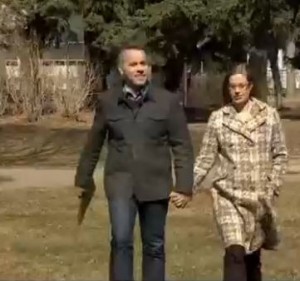 The Saskatchewan NDP are in need of a new leader.
Speaking in Saskatoon Monday morning, Cam Broten has decided it is time that the party get new leadership as he announced his resignation.
The decision comes less than a week after the Saskatchewan Party won the provincial election taking 50 of 61 seats.
Speaking at a park near his home in Saskatoon, Broten said he is not one to back away from a challenge, but he makes this decision after talking with his family and colleagues.
Broten was defeated in his riding of Saskatoon Westview in the provincial election on April 4 by the Saskatchewan Party's David Buckingham sparking talk about what his future would hold.
Broten was first elected as an MLA in 2007 and became leader of the Opposition after Dwain Lingenfelter stepped down following his defeat in the 2011 provincial election.
The provincial NDP will meet April 23 to select an interim leader.
Premier Brad Wall sent out a statement today after hearing the news.
The statement reads:
I would like to take this opportunity to thank Mr. Broten for his public service and his significant contribution as an MLA and the Leader of the Her Majesty's Official Opposition.
I wish him the best in all of his future endeavours.
Following the resignation of leader Cam Broten, the NDP will now have to elect an interim leader.
A joint meeting between members of the NDP Caucus and the Provincial Council of the Saskatchewan NDP will meet on April 23 to make the selection.
Theresa Sabourin, President of the Saskatchewan NDP says they will have several decisions to make.
Sabourin says this is a chance for the party to re-evaluate and take a look at what went wrong during the campaign.