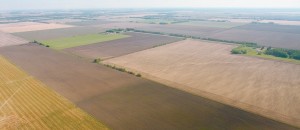 A new report says the average price of farmland across Canada increased 10.1-percent last year as low interest rates and strong crop income helped maintain demand.
The report by Farm Credit Canada says last year's gains are part of a continuous upward trend that started in 1993.
The gains, however, are lower than in recent years, with the average price increasing 14.3-percent in 2014 and 22.1-percent in 2013.
The chief agricultural economist at Farm Credit Canada says farmers have to prepare for a potential softening of the market as lower crop prices have already increased volatility.
J.P. Gervais says farmers didn't feel the full effects of lower commodity prices last year because of the significant drop in the Canadian dollar.
But looking ahead, Gervais says 2016 could see more modest farmland value gains of two- to four-percent as farmer income, known as crop receipts, start to be affected.
(The Canadian Press)