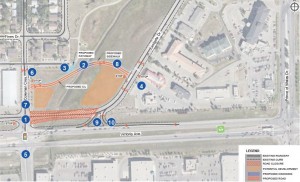 The City of Regina unveiled its plans for Eastgate Drive to the public Tuesday night at an open house.
Plans include removing the temporary bridge at Eastgate Drive and re-locating the road about 50 metres north of its current location.
Norman Kyle with the City of Regina says they want to accommodate pedestrians as much as possible with the new design."It would be a two lane road, so one-way traffic each way. It would include a creek crossing, as well as pedestrian infrastructure sidewalks and a connection to the trail system."
From here, the City will begin to analyze feedback from Tuesday night's meeting and present the plans to Public Works and City Council in June.