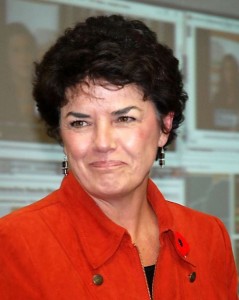 Moose Jaw's mayor is throwing cold water on speculation she is going to run for the leadership of the provincial NDP.
The name of Deb Higgins came up as a possible replacement to Cam Broten after he announced his resignation as party leader on Monday.
Higgins, who has been the mayor of Moose Jaw since 2012, after serving as an NDP MLA for 12 years, says running for the leadership is something she is not considering as she is very happy with her current position.
In 2009, Higgins attempted to become leader, but she came in 4th in a race Dwain Lingenfelter won.
While ruling out a run at the leadership, Higgins is offering some advice to the party saying they have to reconnect with the people of the province and there is a lot of work to be done when it comes to their vision of the province and their policies.