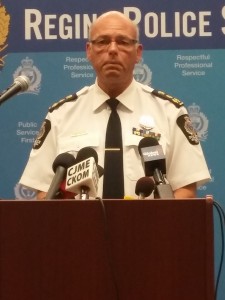 Regina police chief Troy Hagen fought back tears as he announced his retirement this afternoon.
The decision caps off a 37 year career Hagen has had with the Regina police service with the last nine years as chief.
The 58 year old joked he was making the worst kept secret in the department official by announcing his retirement and says he leaves having done something he knew he wanted to do since he was 5 years old which was serve in law enforcement.  He adds he is leaving the force in a better spot from where it was when he took over, but he was quick to share that credit with the entire department and various community organizations.
Mayor Michael Fougere echoed those sentiments saying excellence starts at the top and thanks to Hagen, many key initiatives have been developed in this city. He says whoever replaces him will have a tough act to follow.
Hagen's  last day will be in August, but it is expected his days as Regina's top cop will come to an end sometime in June.