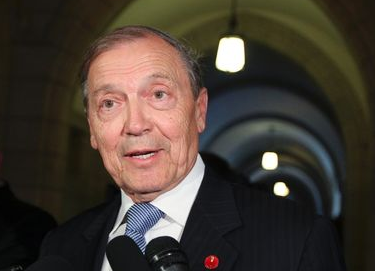 Another three senators are paying back money deemed to be questionable expense claims by a special arbitrator's report.
Records show Senator Colin Kenny has paid over 31-thousand dollars in expenses former Supreme Court justice Ian Binnie deemed unjustified, including overnight stays that didn't appear necessary.
Conservative senators Jean-Guy Dagenais and David Tkachuk also repaid expenses Wednesday.
For Dagenais, that meant repaying almost $2,300 for expenses that included trips a staffer wasn't eligible to claim.
And for Tkachuk, it meant repaying $1,900 for trips that included a November 2011 flight to Ottawa from Saskatoon that Binnie said was primarily for Tkachuk's work on a corporate board.
Tkachuk joined the Saskatchewan Progressive Conservative Party in 1974.
He served in the Premier's Office as Grant Devine's principal secretary.
He was appointed to the Senate in June 1993 on the recommendation of Brian Mulroney weeks before his retirement as Prime Minister of Canada.
(with files from The Canadian Press)