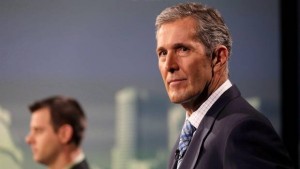 Manitoba's nearly 17 years of NDP rule came to an end on Tuesday as Progressive Conservative Leader Brian Pallister won a majority, defeating Greg Selinger and his New Democrats.
The NDP has dominated politics in the province since the 1960s but Mr. Selinger struggled during his seven years as premier, facing down a caucus revolt and pushing through an unpopular sales-tax hike.
In early returns Pallister's Tories took a commanding lead, winning in areas where the party hasn't been close to victory in decades.
Seeking a fifth consecutive majority for his party,  Selinger went into the election at a deep disadvantage – his New Democrats had trailed the Tories in polls since 2012.
"It's such a decisive and overwhelming victory, the people have chosen a new direction and a positive tone in government," said Mike Richards, the former president of the PC party and Pallister's spokesman.
The Manitoba election wasn't a contest of leaders. Both  Selinger and Pallister became less popular over the course of the campaign, polls showed.
Selinger, who offered his resignation as party leader even though he won his seat, lost the trust of his province in April, 2013, after breaking his promise not to hike sales taxes.
Pallister is a financial analyst by training, but he has served in federal and provincial politics for two decades.
He was a provincial minister in the mid-90s during the last Tory government in the province.
Despite his time in politics, observers have said that Mr. Pallister can be an awkward speaker.
He also lost voters' trust during the campaign over misstatements.
While he told Manitobans as opposition leader he had been at a family wedding during provincial floods, he was actually at a vacation home he owns in Costa Rica.
Premier-designate Pallister has committed the Tories to lowering the PST by one percentage point – undoing Mr. Selinger's increase – and indexing tax brackets to inflation.
He's also pledged to join the New West Partnership trade agreement with other western provinces.
(Canadian Press)