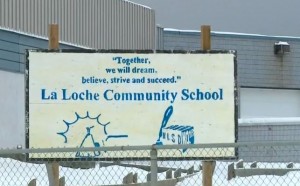 The mayor of La Loche says counselling services will be in place beyond the school year as the community continues to come to grips with a shooting that killed four people and wounded seven others.
Kevin Janvier says in a letter that the province has assured the town that support for the healing and recovery process will continue.
On Jan. 22, a teenage boy allegedly shot and killed two brothers before going to the high school, where a teacher and a teacher's aide were killed and seven others wounded.
The accused shooter, who can't be named under the Youth Criminal Justice Act, is charged with first-degree murder and attempted murder.
Janvier says the government has been in La Loche since the tragedy and collaboration between the town and the province has been very helpful.
He says the province is also helping the town develop plans for housing, infrastructure, education and health.
(Canadian Press)