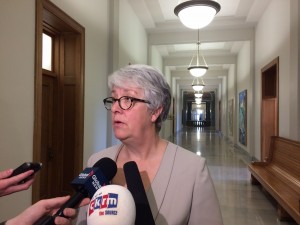 Saskatchewan's NDP isn't happy about the possibility of a larger than projected deficit in the upcoming budget.
Premier Brad Wall said on Monday morning the deficit could be higher because of resource revenues.
NDP Finance Critic Kathy Sproule calls the news very concerning.
"That's something that we were asking the government to be upfront about before the election, they kept mum on that, and I know we've got school boards and hospital authorities that are needing this information much sooner."
The government was looking to have the deficit down to about $260 million when delivered on June 1.