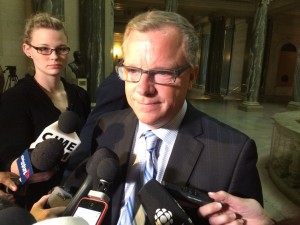 Blaming a "softening" in resource revenues, Premier Brad Wall says Kevin Doherty's budget on June 1 may see a deficit higher than originally forecast.
Wall had said it was the government's hope to get the deficit down to 260 million dollars, but he feels that won't happen now.
"We haven't gone through the (finalization) process yet, but because of the softening in revenue, significant softening in resource revenue, we might be looking at a higher deficit than what we originally forecast at third-quarter for next year's budget."
In February, Finance Minister Kevin Doherty delivered the update for the third-quarter of the 2015-16 fiscal year.
At that time, Doherty said the province was expecting a $427-million deficit and aiming for a $259-million deficit in the 2016-17 budget coming in June.
However, the premier pointed out the deficit won't be "nearly the scale" of deficits seen in Alberta or Newfoundland and Labrador.
The two provinces, which tabled their budgets last week, are both facing huge budgetary holes where oil and gas revenues used to be.