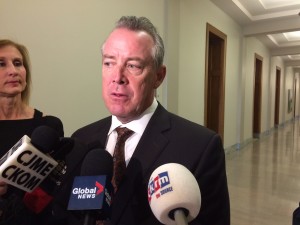 The Saskatchewan Indian Gaming Authority in Saskatchewan is looking to build a casino in Lloydminster.The Federation of Saskatchewan Indian Nations has been granted conditional approval for the Saskatchewan Indian Gaming Authority to build and run the casino.
Don McMorris, Minister responsible for SLGA thinks building a casino on the border is a good idea.
"There is also that whole market on the Alberta side that it would be able to tap into, that's what makes it attractive."
McMorris says the casino would be built to service a city of Lloydminster's size.
"It's not a large, large casino. Roughly four or five gaming tables and 250 machines, so that's not large compared to some of the other casinos."
Before any sort of development begins, a community consultation plan is needed, along with municipal approval from the City of Lloydminster, and amendments to the Gaming Framework Agreement.