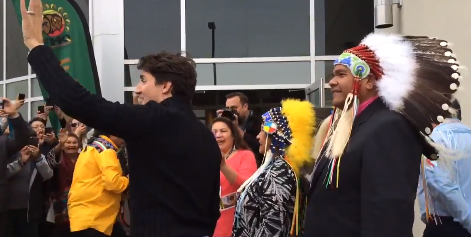 Prime Minister Justin Trudeau visited Fort Qu'Appelle on Tuesday evening to meet with the File Hills Qu'Appelle Tribal Council.
Also in attendance for the meeting was Ralph Goodale, Minister for Public Safety and Emergency Preparedness and Assembly of First Nations National Chief Perry Bellegarde.
Trudeau held the meeting in the hopes of furthering relationships with First Nations people and the federal government.
He says Canadians need to acknowledge First Nations people and the issues they face.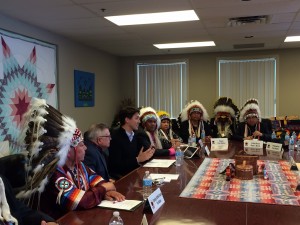 "Fundamentally, Canada will never succeed unless the voices of Indigenous people are heard, valued and ringing loudly and clearly right across this country," said Trudeau.
Trudeau says the federal government has taken steps to ensuring a better future for First Nations people, with $8.4-billion earmarked in the federal budget.
A tribal council chairman in Saskatchewan describes his meeting with Prime Minister Justin Trudeau "historic" and an effort to reshape the relationship between the federal government and Indigenous people.
Council chairman Edmund Bellegarde says Trudeau offered a meaningful conversation with respect, adding the very action of Trudeau listening to their concerns is a change 140 years in the works.
When asked about Saskatchewan's resource sector, Trudeau said it needs to be handled carefully.
"We cannot build a strong economy if we are not respecting the environment, if we are not consulting with communities affected by economic growth, if we are not building them around a partnership with Indigenous communities," said Trudeau.
The Prime Minister also spoke about his relationship with Premier Brad Wall and his appreciation for the western provinces.
"Brad and I have issues that we agree deeply on, other issues that we're still working out, but that is the work of confederation and the work of a Prime Minister. I have had nothing but positive, respectful conversations with Premier Wall," explained Trudeau.
Trudeau is set to meet with Premier Brad Wall in Saskatoon on Wednesday evening.