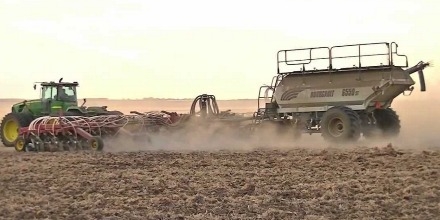 The first crop report of the year says seeding is about three per-cent complete in Saskatchewan.
Provincial crops analyst Shannon Friesen says seeding is well ahead of normal for this time of year.
Normally, seeding is less than one per-cent complete for the end of April.
Many farmers in the south have been seeding for several weeks already.
Friesen says seeding is eight per-cent complete in the southwest and four per-cent in the southeast.
Seeding is expected to become general across the province in the next couple of weeks.
Topsoil moisture is six per-cent surplus, 83 per-cent adequate, 10 per-cent short and one per-cent very short.
The southwest received much-needed moisture earlier this week.
In contrast, much of the east-central and northeastern regions have excess moisture.
Farmers are hoping for warm dry weather to advance seeding.
Pastures are rated five per-cent excellent, 31 per-cent good, 35 per-cent fair, 23 per-cent poor and six per-cent very poor.