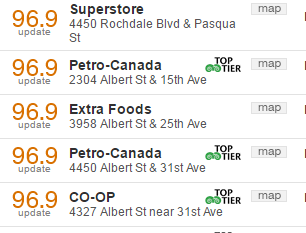 The price of gasoline has taken a sharp jump upwards in Regina.
According to GasBuddy.com, fuel is now about 9 cents-a-litre higher, sitting at 96.9 at most stations. (as of 6:00am April 28)
The Toronto stock market saw a second day of gains as the price of crude oil hit its highest level this year.
Toronto's S-and-P / T-S-X index climbed 78 points to 13,887.
And the dollar is trading overseas Thursday morning at 79.56 cents U-S, up from Wednesday's close of 79.25.