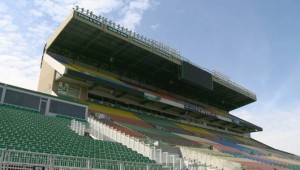 8 locations across Saskatchewan will benefit from the 2013 Grey Cup Legacy Project where Mosaic Stadium underwent a 15 million dollar renovation by adding seats to the south and north endzone as well as adding two video boards.
Once the football team moves into the New Mosaic Stadium, the seats will be dismantled and donated to the following communities and organizations.
Saskatoon (Friends of the Gordie Howe Bowl Foundation) – All of Mosaic Stadium south end zone seats, suites and concourse which will be divided on both the east and west sides of SMF Field on the grounds of Gordie Howe Sports Complex.
Naicam (Naicam School) – Seats for multipurpose field.
Swift Current (Chinook School Division/City of Swift Current) – Expansion of current seats and addition to the track on their multipurpose outdoor field.
Kamsack (Town of Kamsack) – Seats for the improvement of current facilities within the Kamsack Sports grounds
LaFleche (LaFleche and District Recreation Board) –Seats for indoor viewing at their pool as well as their baseball facility
Saskatoon (Saskatoon Soccer Centre Inc.) – Seats for multiple outdoor facilities.
Grenfell (Town of Grenfell) – Seats for their baseball/softball grounds.
Montmarte (Montmarte Arena Board) – Seats for the town hockey arena.