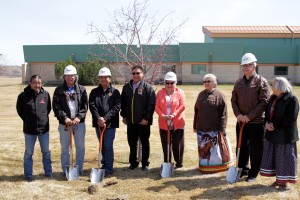 The
All Nation's Healing Hospital
in Fort Qu'Appelle is expanding to get a Chronic Wellness Centre.The Saskatchewan Indian Gaming Authority was in town to make a contribution of $250,000 for the project.
Edmund Bellegarde, Tribal Chairperson with the File Hills Qu'Appelle Tribal Council says $1.2 million of the project's funding comes from First Nations communities.
"All of the funding that we have in place is generated first and foremost from the 15 First Nations that own and operate this public healthcare facility."
Health Canada is providing $1 million over three years, towards operations of the centre.
The cost of construction is about $1.7 million, and Bellegarde says equipment for the centre will cost $550,000.
Construction on the facility is set to being in two weeks, and the centre is expected to open in fall 2016.