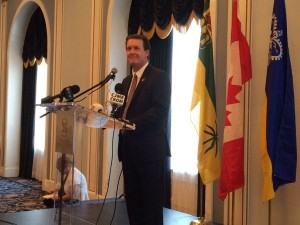 No surprise from Regina Mayor Michael Fougere on Friday afternoon.
Speaking in front of an audience at the Hotel Saskatchewan, Fougere let it be known he intends to seek a 2nd term as mayor when voters go to the polls in a civic election October 26.
During his speech, Fougere spoke about some of the things he's accomplished during his term as mayor, including a one percent tax increase to improve roads, and major projects like Mosaic Stadium and the water treatment plant.
He says he plans to enhance the city's downtown , address issues like housing and homelessness, and promote arts and culture within Regina.
Fougere became mayor succeeding Pat Fiacco in 2012 after spending five terms as a councillor representing Ward 4.