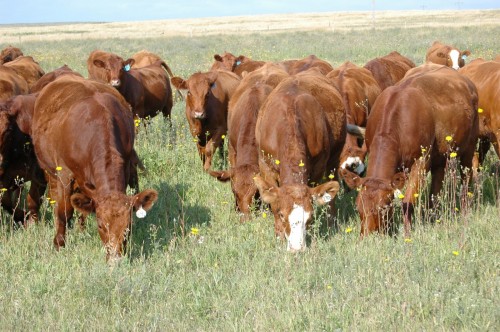 Cattle market prices were mixed but mainly lower across Saskatchewan during the past week.
Provincial livestock economist Brad Marceniuk says feeder steer prices declined on average six dollars per hundredweight.
Feeder steers had the largest loss in the 600 to 700 pound category, down 11 dollars 26 cents per hundredweight.
Negative margins in the feedlot sector have pressured feeder cattle prices and will likely continue, based on current live cattle futures.
Benchmark feeder steers, 500 to 600 pounds, were down 53 cents to 219 dollars 83 cents per hundredweight.
Feeder heifers were also down as much as 5.47 per hundredweight.
Marketings across Saskatchewan reached 10,429 head, down from 15,979 head last week and down slightly from the same week a year ago.
Prices for D1, D2 slaughter cows rose 42 cents per hundredweight to average 101 dollars 25 cents per hundredweight.