The Canadian country music scene is JAMMED with talent right now and today's guests are no exception. Runaway Angel stopped by 620 CKRM today to introduce themselves, and share some new tunes!
Cadence Grace, Ann Chaplin and Stacey Zegers formed the trio a few years back and are very excited for what the future holds.(As they should be). Their brand-new single is called "June" and it's our "Farm Fresh Song Of The Day".  A few weeks back they also released their debut album "No End In Sight". Find our more on their website.
The three gals joined me in the studio. Listen to our chat by clicking HERE.
Remember to vote "PICK IT" or "KICK IT" on our homepage, but first have a listen to track.
The gals sound GREAT live. Check out the songs they played live from our lobby.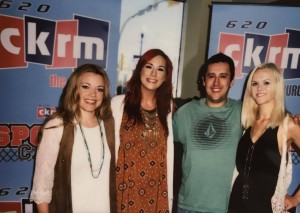 (L-R: Ann, Cadence, Brandon, Stacey)
Thanks for reading,
Brandon
@BaslerRM on twitter