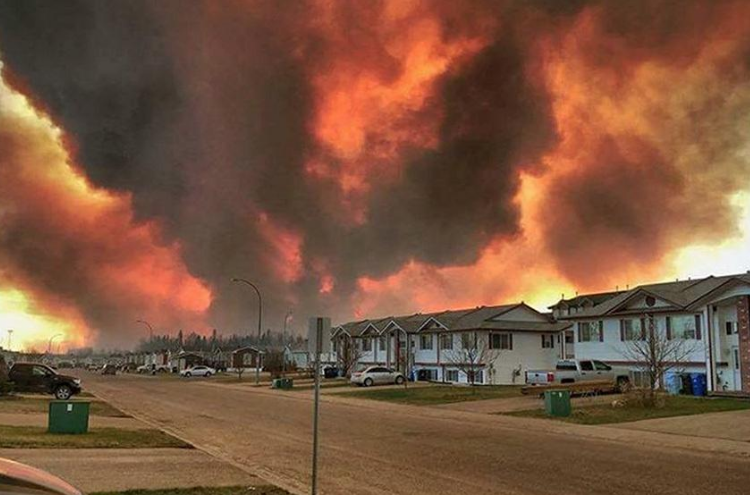 The entire population of the Alberta oilsands city of Fort McMurray was under a mandatory evacuation order Tuesday as a raging wildfire destroyed buildings, pushed billowing dark clouds of thick smoke into the air and spit ash down on residents.
An earlier order that had applied to almost 30,000 people, mostly on the city's south side, was extended to tens of thousands more as hungry flames continued to eat their way into the city.
The wildfire, whipped by unpredictable winds on a day when the temperature reached 32 C, worsened dramatically in a short time and many residents had little notice to flee. Towers of bright-orange flames cut through the clouds and skipped over tinder-dry forest.
Alberta Premier Rachel Notley said the province was doing all it could to ensure everyone's safety. She said she was looking into the possibility of an airlift for residents with medical issues.
"As frustrating and as scary as it is to leave your home, it's not as frustrating and scary as to find that you're trapped," Notley said in a late-afternoon update.
"It is absolutely important that people follow instructions and evacuate as requested."
Scott Long of Alberta Emergency Management said the flames had burned a number of structures, but he couldn't say how many.
Highway 63, the main way into Fort McMurray from the south, was closed after flames jumped the road.
Jordan Stuffco, a lawyer who has an office in Fort McMurray, left at the urging of his family and colleagues.
He posted a video to his Twitter page showing a harrrowing drive through flames and black smoke.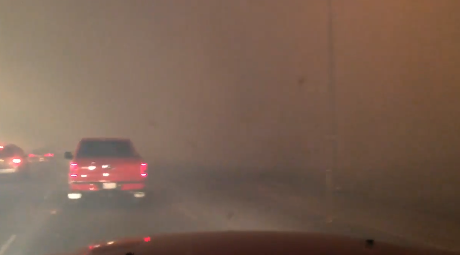 The Regional Municipality of Wood Buffalo, which includes Fort McMurray, had an overall population of 125,000 in 2015. That included a temporary "shadow" population — many of whom live in work camps — of 43,000.
It's five years ago this month that wildfires destroyed about one-third of the community of Slave Lake, Alta. More than 500 homes and buildings were damaged at a cost of almost $1 billion.
The wildfire that has destroyed whole neighbourhoods in Fort McMurray, Alberta could get even worse Wednesday.
Massive walls of flames prompted authorities to order the evacuation of all 80-thousand residents last night and forestry manager Bernie Schmitte has warned that the worst of the blaze `"is not over."
He told a late night news conference that today's forecast calls for very high temperatures, low humidity and strong winds.
At the same news conference, fire chief Darby Allen said there were no reports of serious injuries, adding that military assistance is expected to arrive in the Alberta city within a couple of days.
In the meantime, Highway 63, the main route to the city route to the city from the south, has been clogged with vehicles as residents flee their city.
The blaze began started on Sunday and it appeared firefighters would get it under control yesterday morning, but the winds shifted quickly pushed the flames along a ravine and into the city.
Numerous communities and facilities in the surrounding area have opened their doors for the evacuees and work camps associated with oilsands projects have been quickly prepared for Fort McMurray residents.
Politicians of all stripes have sent their condolences and words of support to the city, including Alberta's Opposition leader.
Wildrose Leader Brian Jean — the member of the legislature for the area– says his home along with businesses that have been in his family for three generations were lost.
(The Canadian Press)