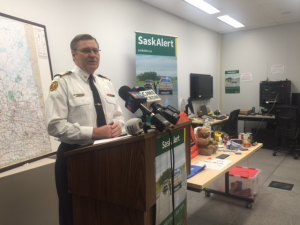 Emergency Response in Saskatchewan is on high alert for the possibility of wildfires again this year in the province.
Hot dry weather has provided a perfect storm to produce fires.
Commissioner of Emergency Management and Fire Safety Duane McKay says they have no idea if the fire situation will be worse or better than last year. it will depend on the amount of rain and if we get lighting strikes in vulnerable areas.
Residents are warned to be extremely cautious when using fire in the coming weeks. Municipalities in La Ronge and Saskatoon have already implemented fire bans.
Mckay says currently there are a significant number of grass fires in the southern parts of the province.