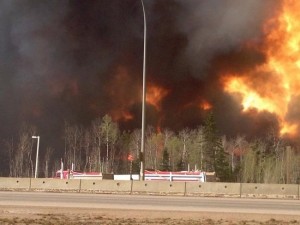 The Alberta government has declared a provincial state of emergency due to a devastating forest fire that has destroyed 1,600 homes in Fort McMurray.
Municipal Affairs Minister Danielle Larivee says that will allow the province to request additional resources from outside the province.
Larivee says the fire is currently burning in residential areas and crews are fighting in challenging and volatile conditions.
Scott Long of Alberta Emergency Management says flames are being kept from the downtown area thanks to the "herculean" efforts of firefighters.
There has also been a fatal traffic accident on a secondary highway being used by evacuees, but Larivee says it's not clear yet whether the collision is connected the fire.
(The Canadian Press)