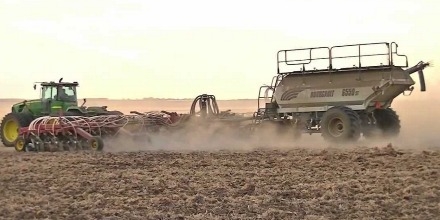 Saskatchewan farmers made good seeding progress this past week.
Provincial crops analyst Shannon Friesen says farmers in the south have been seeding for several weeks.
Seeding is 15 per-cent complete, well ahead of the five year average of four per-cent for this date.
 Seeding is most advanced in the southwest at 35 per-cent followed by the southeast at 18 per-cent.
Seeding is six per-cent in the west-central region, three per-cent in the northwest and two per-cent in east 
central Saskatchewan.
Seeding is only one per-cent in the northeast.
Many parts of the south and west will need rain soon to help crops germinate and emerge.
Cropland topsoil moisture is rated two per-cent surplus, 78 per-cent adequate, 19 per-cent short and one per-cent very short.