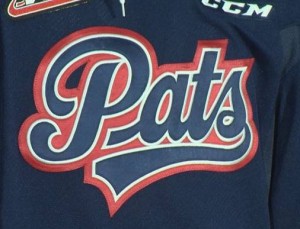 -With the 108th overall pick in the 5th round the Pats selected defenceman Michael Ladyman from Winnipeg. The 5'9″, 126 lbs defenceman had 44 points in 35 games with the Winnipeg Monarchs Bantam AAA.
-The Regina Pats traded their 6th round pick to the Everett Silvertips in the exchange for 1999 born forward Nicholas Henry. Henry was originally a 3rd round pick of the Silvertips in 2014. In 50 games with the Portage Terriers of the MJHL he had 61 points as a 16-year-old. Was the MJHL Rookie of the Year and is still playing at the Western Canada Cup in Estevan.
– In the 8th round with the 165th overall pick the Pats took forward Logan Nijhoff from Comox B.C. Playing at the Okanagan Hockey Academy he scored 4 goals and had 9 assists in 20 games. Nijhoff is listed at 5'10" and 157 lbs.
– The Pats in the 9th round, 187th overall. took forward Kaden Bohlsen out of Shattuck St. Mary's. The Willmar Minnesota product had 32 goals and 58 points in 60 games in 2015/16. He is committed to play NCAA with the University of Minnesota. He stands 6 feet tall and weighs 157 lbs.
– The Pats in round 10, 209th overall took 5'4, 114 lbs defenceman out of Calgary Ryker Evans. Evans in 36 games with the Calgary Royals Bantam AAA scored 3 goals and had 19 points in 36 games played.
– The Pats next and final pick came in round 11, 231st overall to take defenceman Riley Little from Saskatoon. Little with the Saskatoon Generals scored 4 goals and had 9 points in 30 games played. He stands 5″11 and weights 140 lbs.
– In total the Pats drafted 8 players, 5 forwards and 3 defenceman.