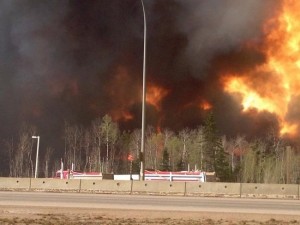 The wildfire creating so many problems for Fort McMurray is resulting in smoke drifting into Saskatchewan.
Environment Canada has issued an air quality statement for the northwestern part of the province with that smoke eventually coming south.
John Paul Cragg with Environment Canada says the sky in the Regina area and southern Saskatchewan will become hazy sometime Thursday afternoon and stay that way for about 24 hours.
While the smoke could be thick in areas where the air quality statement is in effect for, it should not be bad in this part of the province, but he says those with health conditions who might be affected should limit their outdoor activity.
Harvard Broadcasting cares about the victims of the wildfires in Fort McMurray and is encouraging everyone to donate to the Red Cross to help those affected by the fires.
The Red Cross urges people to donate funds rather than clothing for the residents of Fort McMurray who have been driven from their homes by wildfire.
The Red Cross has set up a special online form to make donations simpler.
You can also make a $5 donation by texting REDCROSS to 30333.