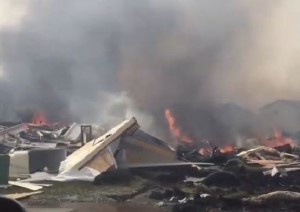 There's a plan to airlift evacuees who were cut off when they fled north to escape an intense wildfire burning in and around Fort McMurray.
Alberta Premier Rachel Notley says it's hoped about one-third of the 25,000 people staying in oilfield work camps can be flown out.
Alberta Emergency Management says energy companies in the area are prepared to use their planes in an airlift.
Scott Long says a military Hercules aircraft is also on standby.
Officials are also hoping to co-ordinate a convoy down the highway back through Fort McMurray and south from there.
Winds gusting to 70 km/h late Wednesday caused the fire to swell rapidly to cover 850 square kilometres.
Officials do not have an update on how many buildings have been destroyed or damaged in the city. The count stood at 1,600 on Wednesday.
The Red Cross is accepting donations and have set up a special online form to make donations simpler.
You can also make a $5 donation by texting REDCROSS to 30333.
(The Canadian Press)