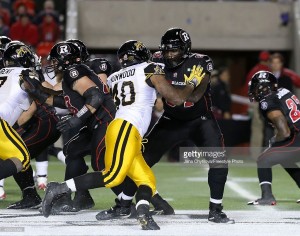 TSN's Mark Sciantti is reporting the Saskatchewan Roughriders have signed defensive lineman Eric Norwood.
The 27-year-old South Carolina graduate spent three seasons with the Ticats, emerging as one of the league's premier pass-rushers. Last season he recorded seven sacks despite being limited by injuries, while in 2014 he was among league leaders with 13 sacks in 15 games.
He was one of 11 players let go by the Ti-Cats last week.