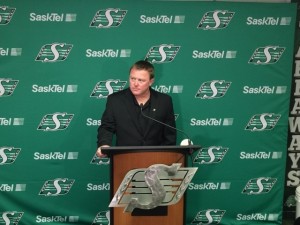 The CFL draft is Tuesday and as of Monday afternoon, the Saskatchewan Roughriders still have the number one selection.
However, Roughriders  head coach, general manager, and vice-president of football operations Chris Jones told reporters he has received a number of calls from other teams asking about the possibility of getting that pick.
While the Riders own the number one pick in the draft, they would not pick again until the 3rd round with the 24th pick. In all, the team has 7 picks in the draft which begins at 5 o'clock Saskatchewan time.
Jones added a TSN report stating the team was about to sign former Hamilton defensive lineman Eric Norwood was premature.
620 CKRM will bring Saskatchewan's #1 sports show, the Sportscage, live from Mosaic Stadium on Tuesday.