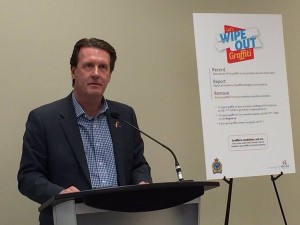 The City of Regina and the Regina Police Service are fighting graffiti with a new initiative.Residents are being asked to take a photo of the graffiti, report it to police, and remove it as soon as possible.Police Chief Troy Hagen says graffiti is vandalism, not art.
"There were 526 incidents in 2015 that were reported, which were classified as mischief under the criminal code, which is damage to property."
Mayor Michael Fougere says graffiti needs to be removed as soon as it happens, so it doesn't become a bigger issue.
"If you don't take care of the small things in your neighbourhood, things can get out of hand and become a problem, so it's important to take care of it as soon as we can."
The City hopes to clean up graffiti in the Cathedral area before the Cathedral Village Arts Festival, which runs from May 23-28.