Mandy Ringdal is one of those people who can instantly light up a room. Mandy is a farm girl from rural Saskatchewan who says music for her is a "celebration of life".
If you know Mandy's story, you know she has had her fair share of struggles. She was in Regina to perform and speak at the "Lady Balls Show & Tell" event in support of ovarian cancer…. Something Mandy knows all to well. Mandy told her story and sang tunes she wrote about her battles with cancer. You can find out more about Mandy on her website.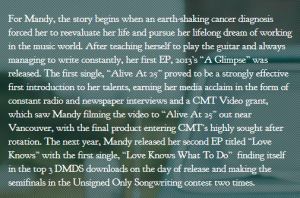 One thing I love about Mandy is that she is always smiling! (As seen in the picture of her and I below.) She always has such a positive attitude, and it's infectious.
I've heard from multiple people that Mandy was amazing last night and left everyone either in tears or incredibly inspired.
This morning she stopped by to debut her new single "Bobby's Drums".
The song is about one of Mandy's friends who lost his life in a snowmobiling accident. She explains how the song came to be.
To hear her explanation of the song… click HERE.
Check out the video!
To here our full interview, click HERE.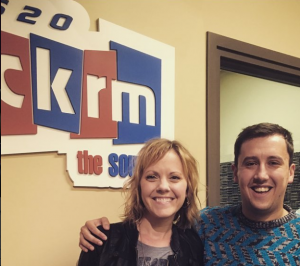 Please head to our homepage and vote "PICK IT" or "KICK IT". I give it a BIG "PICK". Keep up the good work Mandy.
Thanks for reading,
Brandon
@BaslerRM on twitter