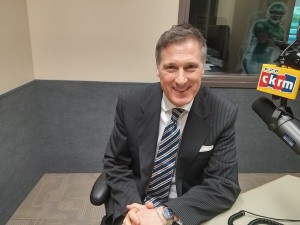 Conservative leadership hopeful Maxime Bernier spent his day in Saskatchewan on Tuesday getting to know Saskatchewan Tories and trying to get an early jump in getting them in his camp when the party selects a new leader in 2017.
Bernier says the Conservatives continue to provide a strong voice federally for Saskatchewan despite the election night defeat and he saw that during his stop.
Bernier says if he is elected as leader, he will preach small government, lower taxes and a balanced budget.
He is one of two Conservatives to formally announce a bid for the leadership joining Ontario's Kellie Leitch.
Regina M-P Andrew Scheer is said to be considering taking a run which is something Bernier would welcome.
He says Scheer is a strong Conservative and he would love to have an opportunity to exchange words with him in a meaningful debate to show Conservative supporters who their best voice should be as leader going into the next federal election in 2019.