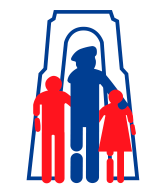 For the 70th year, the War Amps are helping people get their keys back safely.
The War Amps key tag service is celebrating it's 70th anniversary this year and the free tags have already been mailed out.
Anyone finding a lost set of keys with this tag can put them into any Canada Post mailbox, or they can call the number on the key tag to return the keys free of charge.
Jamie Lunn, the Public Awareness officer with the War Amps, says the program is so successful because of the money it can help people save, especially with the high cost of electronic keys.
The tags are already set up and can be attached to a key chain upon arrival.