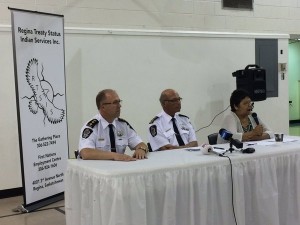 A new agreement between Qu'Appelle Tribal Council and Regina Police Service aims to provide improved safety to First Nations people.
The two organizations signed the Cooperation and Community Safety Protocol on Tuesday afternoon to better serve those living in the Treaty Four area.
Regina Police Chief Troy Hagen says the contract solidifies their current relationship.
"It really specifies our responsibilities. I think it brings some clarity and also enhances certain aspects of our relationship in terms of formalizing the number of persons and points of contact within each respective agency."
Both parties will work to improve objectives like community safety, personal harm, and intervention and management.