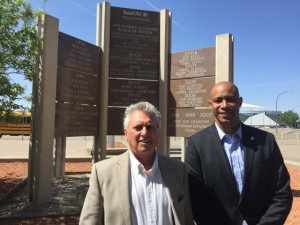 The Saskatchewan Roughrider Plaza of Honor Committee has announced two new members will be inducted into the Plaza of Honor as the class of 2016. This year Matt Dominguez and Ivan Gutfriend will have their names forever etched into Saskatchewan Roughrider history.
The Plaza of Honor Dinner presented by SaskTel has inducted 120 individuals who have made major contributions to the proud tradition of the Saskatchewan Roughrider Football Club. The club has also inducted the 1966, 1989 and 2007 Grey Cup championship teams.
The cairn recognizing the Plaza of Honor inductees is situated outside the main gates on the west side of Mosaic Stadium.
The SaskTel Plaza of Honor Dinner is known as Saskatchewan's most prestigious sports dinner and as a result has contributed over $6 million to the Saskatchewan Roughrider Football Club.
This year's dinner is set for Friday, September 16th in the Credit Union Eventplex at Evraz Place. Five seasons ago the Dinner was moved to the Eventplex in order to meet the demand for tickets and accommodate a larger audience. The space allows patrons the opportunity comfortably mingle and meet friends and associates throughout the evening.
For information on tickets or corporate tables, contact the Saskatchewan Roughrider Ticket Office at 525-2181 or 1-888-474-3377 or any committee member.
Matt Dominguez
#88
Sam Houston State
Wide Receiver
2003-2008
• Born in Georgetown, Texas in 1978
• Played six seasons in the CFL – all with the Roughriders
• Played his college football at the Sam Houston State in Huntsville, Texas
• Originally signed in May, 2003 after spending two seasons with the Denver Broncos
• Played 59 regular season games
• Finished his CFL career with 250 receptions for 3,741 yards and 19 touchdowns
• Played in six playoff games totaling 27 receptions for 440 yards and three touchdowns
• Won the Grey Cup with Saskatchewan in 2007
• Selected West Division All-Star in 2006
IVAN GUTFRIEND
Athletic Therapist
1978-2015
• Born in Leader, SK in 1947 before moving to Moose Jaw in 1953
• Spent 38 seasons with the Roughriders
• Named Head Athletic Therapist in 1981 after joining the team in 1978
• Received two undergraduate degrees from the University of Saskatchewan
• Completed Master's degree in Athletic Training from Indiana University
• Worked 668 regular season games, 27 playoff games and six Grey Cup's
• Member of the 1989, 2007 and 2013 Grey Cup champion teams