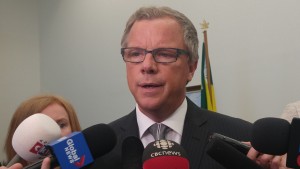 The
Throne Speech
, delivered by Saskatchewan's Lieutenant Governor Vaughn Solomon Schofield, focused on the promises made by the Saskatchewan Party during the spring election.Premier Brad Wall says their election platform included very few promises, but his party plans to deliver on what they campaigned on.
Wall says they will strive to 'Keep Saskatchewan's Economy Strong', which means possible 'transformational changes'.
"This is the time for our government to engage with Saskatchewan people and stakeholders in the area of health care delivery, in the area of education delivery, social services delivery, corrections. Are there opportunities for some substantial, major changes in how services are delivered."
Wall says one option that shouldn't be kept off the table is the removal of regional health authorities.
He will also be looking at changes to education and post secondary education.
The first item to be discussed in the new legislative session will be an amendment to remove the Saskatchewan Liquor and Gaming Authority from the Crown Corportations Public Ownership Act.
Wall says the changes would be more consistent with the current laws.
"This will allow our government to move forward on our campaign commitment to convert 40 government owned liquor stores to private stores, create 12 new private stores and offer consumers more choice, more convenience and more competitive prices."
Trent Wotherspoon, Interim Leader for the Saskatchewan NDP says he is dissapointed by Tuesday's Throne Speech.
Wotherspoon says he's concerned with Saskatchewan's financial position and is interested to see what the budget will look like when it's tabled.
"There's really no accountability at all. Here were are almost two months after the election and still no budget."
The budget is set to be released on June 1.