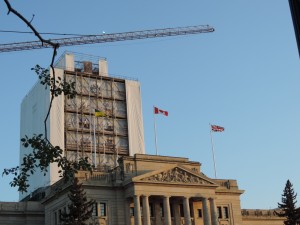 Monday, May 16th:
A beautiful night to celebrate the re-creation, renovation and re-birth of the Legislative Building in Wascana Park.  Not the whole building, just the iconic dome!
What a great crowd that came out!  Young, old and everyone and thing in between!
While not everyone could hear the speeches, you could see pink glow coming from the dome after some of the shroud was dropped.  The rest of the structure will take time to dismantle.
The workmanship, apparently is amazing!  And if you are lucky enough to tour the building, you know what I speak of.
Take a gander at the artifacts in the Cumberland Gallery – lower part of the Legislative Building.
Congratulations to all those that made this a reality!  It looks great.  It was hard to leave the park last night.
Whether it was the brilliant Saskatchewan night (no wind and the smell of blossoms, chirping of the birds) or the swells of dramatic music and the speeches that framed this event, it was a great night!