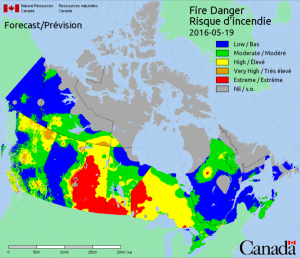 The Fort McMurray Wildfire has reached the Saskatchewan border.
While the fire has started moving again, it remains 30 kilometers away from La Loche and there is no immediate threat to any community other than the possibility of smoke.
Duane McKay with Emergency Management and Fire Safety says they do expect the weather to help the situation. "Weather forecasts are indicating we should see a shift in wind direction which should mitigate the growth of that fire into Saskatchewan."
The fire is 40 hectares and is burning separately from the larger Fort McMurray blaze.