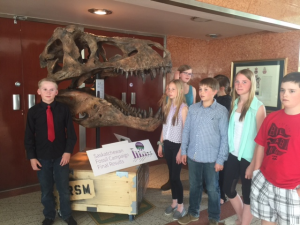 People across the province have had their say and Scotty, the Tyrannosaurus rex, will be the next provincial emblem.
Scotty is a 65 million year-old T. rex skeleton – the first found in Saskatchewan.
Scotty was discovered on August 16, 1991, when then high school teacher Robert Gebhardt from Eastend joined Royal Saskatchewan Museum (RSM) palaeontologists on an expedition.
He discovered the base of a tooth and a vertebra from the tail, both suggesting that they belonged to a T. rex.
In June 1994, RSM palaeontologists began excavating the T. rex. More than 6,000 people visited the excavation site that year.
The process of selecting a provincial fossil was led by the Ministry of Parks, Culture and Sport through the RSM.
Since November 2015, the public have been able to cast paper ballots at the Provincial Fossil Campaign 2016 exhibit at the RSM in Regina, and in April 2016 voting opened province-wide online.
There were 14,208 votes cast and Scotty received 4,923 (35 per cent) of the votes.
The T.rex Discovery Centre, located at #1 T-rex Drive in Eastend, reopens for the season on Saturday, May 21, 2016.
A cast of Scotty's skeleton is on display at the centre, which is open daily from 10 a.m. until 6 p.m until Labour Day. Visit . Admission is by donation.