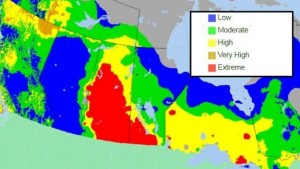 The forecast is helping out the wildfire situation near La Loche, where a small portion of the Fort McMurray blaze has crossed the border.
Executive director of Wildfire Management, Steve Roberts says the temperatures have gone down a bit and the wind is blowing back on the fire.
There is also a chance there could be some rain, but that comes with its own concerns.
Roberts explains that rain can bring lightning strikes.
If it's raining enough, that isn't a problem, but if there is lightning with just a bit of rain, there could be a potential for more forest fires.
The province tracks lightning strikes though, and Roberts says they can then send patrols of aircraft to monitor behind the storms.
Another of the 6 fires burning in the province right now is relatively near a community.
Cole Bay is west of Beauval and about 240 kilometres south of La Loche.
Roberts says there is a lake between the community and the fire though, so there is no direct threat.
Commissioner of Emergency Management and Fire Safety, Duane McKay, says we hear a lot about the Fort McMurray fire hitting the Saskatchewan border, but crews are monitoring the whole province for any situation that may arise.
There are fire bans in many parks and municipalities and McKay asks that people remain vigilant in their use of fire in these extremely dry conditions.