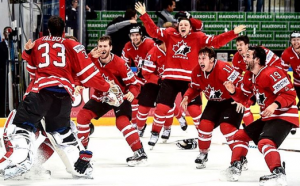 Connor McDavid's first goal of the world hockey championship proved to be golden.
McDavid's goal in the first period stood as the winner as Canada successfully defended its world championship title with a 2-0 win over Finland in the tournament final.
The 19-year-old Edmonton Oilers centre had registered eight assists in the first nine games of the tournament, but was one of just two Canadian forwards not to have recorded a goal coming into the gold-medal game.
McDavid ended his drought at the 11:24 mark of the first period, driving to the net and deking out sprawling Finnish netminder Mikko Koskinen.
Matt Duchene added an empty-net goal with one second left on the clock to seal the win.
Max Talbot made 16 saves for his tournament-leading fourth shutout.
Canada came ready to play on Sunday, registering the first seven shots of the game before the Finns fought back with several good chances late in the first period.
Talbot, determined to bounce back from a sub-par personal performance in a 4-0 loss to Finland in the preliminary round, made big saves on Patrik Laine, Jussi Jokinen and Jarmo Koskiranta to help send the Canadians into their dressing room with a one-goal lead at the end of 20 minutes.
In a hard-hitting second period, Canada outshot the Finns by a margin of 13-4. The best Finnish chances came with Mark Scheifele serving a slashing penalty late in the period, when Talbot stopped Koskiranta on the doorstep, then denied Laine as he shot the puck while streaking down the right wing.
In the third, Canada took a page from the playbook of the Finns, who had allowed just eight goals in nine games heading into the final. Canada shut down the opposition with strong defensive play, limiting quality Finnish scoring chances.
Koskinen made 31 saves for the Finns.
Finland came into the final undefeated with a 9-0 record and had a chance to become the first nation ever to win the world under-18 championship, world junior championship and world championship in the same year, but fell one game short.
Canada is the first repeat gold medallist at the world championship since Russia won back-to-back titles in 2008 and 2009. Canada's last back-to-back wins came in 2003 and 2004.
With his new gold medal around his neck, Canadian captain Corey Perry became the 27th player to join the esteemed Triple Gold Club, adding a world championship gold medal to his two Olympic golds from 2010 and 2014 and his 2007 Stanley Cup. Perry also won gold at the 2005 world junior championship.
(Canadian Press)