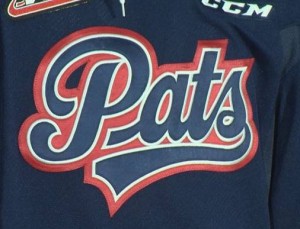 Friday night the Regina Pats will welcome 19 of their prospects to kick off their 2016 Spring Camp. There will be a total of 17 skaters and 2 goaltenders in attendance along wityh a number of veteran players including forwards Adam Brooks, Rykr Cole and Riley Woods.
Head Coach and GM John Paddock says it's an important weekend for both the players, their families and the organization. "We view it as an experience where they can meet us. A little bit of on ice stuff, a little bit of testing just to show the direction they need to go. They will tour the school and get a feel of where they could possibly be going to school at some point. So it's really just a fairly casual setting. It's really good for me probably more than anyone else and Dave (Struch) because most of the kids we don't get to see you know in their first draft and the last two drafts. So it's good in that way for us to get a visualization of them initially or how they may have changed over the last season."
The players will participate in on ice sessions Saturday and Sunday morning at 10:30 AM at the Co-Operators Centre.
Paddock says they won't see American born players Bryan Lockner and Landon Langenbrunner this weekend. "Bryan is not going too and Landon was going too but his sister is graduating from high school this weekend so they are both out. Everything is fine with both of them. It doesn't change Bryan's approach, he will be coming to main camp and we hope to have him play with us next year."
As for the 2016 WHL Bantam Draft, Paddock says all will be in attendance other than American defenceman Kaden Bohlsen. "It looks that way, Bohlsen we are still waiting for a phone call back from him but the rest will be here."
CLICK HERE FOR A FULL 2016 SPRING CAMP ROSTER