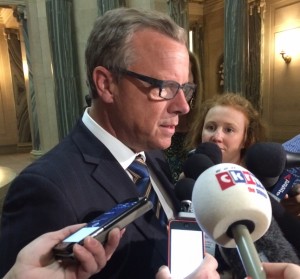 A group called "Concerned Middle Class Canadians" is once again trumpeting Saskatchewan Premier Brad Wall to be the party's next leader.
Brad Wall says he is flattered by a push to have him run to become the next federal Conservative leader, but he has no interest in the job.
The campaign dubbed "Brad Wall For Prime Minister" is circulating an open letter to Tories meeting for the party's annual convention.
The letter says the party needs someone who can grow the party and defeat the Justin Trudeau Liberals in 2019.
Wall says he enjoys being premier and has no interest in federal politics now or in the future.