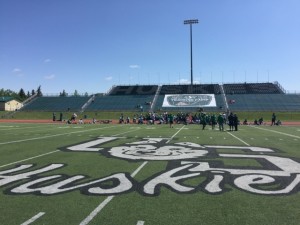 Day 1 of the Saskatchewan Roughriders training camp is in the books.
Many turned up at Griffiths Stadium in Saskatoon to see the new-look Riders, but one of the returnees was the guy most wanted to see as Darian Durant was working out with his fellow quarterbacks. Durant is back on the field after rehab on a season-ending Achilles injury that was the catalyst to a 3-15 season.
The 33 year old said he felt good and confident as he performed drills with his fellow quarterbacks.
He also drew the praise of head coach and general manager Chris Jones who told reporters he is a guy who makes everyone better when he steps on the field.
The Riders will be back on the field Monday morning for Day 2 of camp and it will be broken down Monday afternoon on "Sportscage" with Luc Mullinder starting at 4.