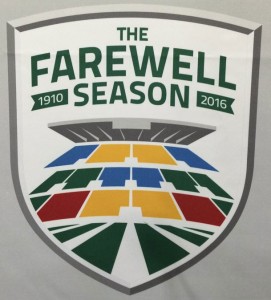 Rider fans will have one last chance to experience historic Mosaic Stadium when single game tickets go on sale Wednesday.
With anticipation for the Farwell Season, a new coaching staff and an influx of talented new players, the Roughriders have announced an initial list of celebrations and game day themes.
The Farewell Season will pay tribute to countless memories and the rich history of Mosaic Stadium.
Each home game fans will celebrate the great teams, players, special moments, traditions and everything else that made Mosaic Stadium magnificent.
The season will be broken down into historic themes with each game and the preceding week focusing on a specific decade, such as the 60s, 70s, or 80s.
The Farewell Season will launch with a special pre-game Kickoff Party in Regina City Plaza and Victoria Park on June 30th from noon to 4pm.
Some season highlights will include a tribute to the 50th anniversary of the 1966 Grey Cup Champions on July 16th, where the Riders will welcome back and honour members of that championship team.
On August 13th, a look back at the 80s, including the '89 Grey Cup Champs, and on Sept 24th fans we'll celebrate the 2000s including the '07 Grey Cup Champions.
Rider Fan Day on Sept 3rd will include the traditional team introduction and autograph session as well as a Legends Flag football game where some of your heroes will be taking the field at Mosaic one last time.
The next day the heroes of today will take the field for the final Labour Day Classic at Mosaic Stadium.
A must-see game will come on October 22nd as the Riders celebrate the 2013 Grey Cup Championship Game, which many would argue is Mosaic Stadium's greatest moment.
The final kickoff at Mosaic Stadium will be Saturday October 29th at 5pm against the BC Lions.