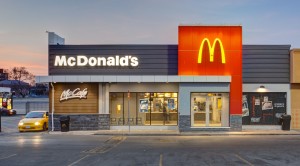 McDonald's Canada has wrapped a pilot project to verify cattle ranches as producing sustainable beef, an initiative that one expert says could be a game-changer for the industry.
The Canadian arm of the burger giant announced today the results of a two-year partnership with the beef industry to advance environmental and ethical standards.
More than 180 beef operations in Canada were verified as sustainable under the pilot after being audited for principles, including animal welfare and community engagement.
An industry initiative called the Canadian Roundtable for Sustainable Beef is praising McDonald's for its leadership and says it will now create a verification framework building on the pilot program.
A recent decision by Earls Restaurants Ltd. to source Certified Humane beef from the U.S. — which the chain reversed after a backlash from Alberta ranchers — has drawn attention to industry practices.
Certified Humane is only one of many third-party-verified labelling programs and some experts say each program feels their standards are the best.
Derek Schoonbaert, a managing director at meat processing giant Cargill, says this is a step in the right direction.
"The beef that we are sourcing looks after the economic viability of the industry, looks after the social aspects of the industry and also the environment," Schoonbaert said.
He said McDonald's sells more than 65 million pounds of beef every year in Canada.
"We can't claim that every burger that you eat at McDonald's is sustainable yet, but we have proven that we do have sustainable beef in Canada," he said.
"Someday soon they will be able to say that all of their beef that they source here in Canada is sustainable."
Prof. Sylvain Charlebois, an expert in food policy at Dalhousie University in Nova Scotia, says McDonald's is such a massive company that it has the power to drive lasting change in the Canadian beef industry.
(Canadian Press)