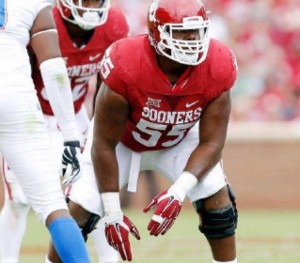 Sportsnet's Justin Dunk is reporting the #1 overall pick in the 2016 CFL Draft – offensive lineman Josiah St. John – has requested a trade from Saskatchewan.
As was reported on Sportscage extensively Wednesday, contract talks between the Roughriders and the Oklahoma Sooners product have reached a impasse and no further negotiation is scheduled.
Dunk reports that although St. John's camp has requested a trade, they have not received permission from the Roughriders to speak with other teams.