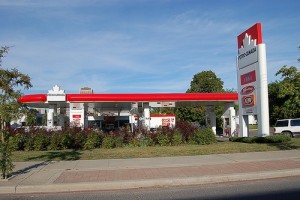 The Fort McMurray wildfires and an unplanned outage at an Edmonton refinery are leading to fuel shortages at Suncor's Petro-Canada stations across Western Canada.
Suncor spokeswoman Sneh Seetal says the cumulative effects of lower crude production because of the fires and the Edmonton outage mean the company has been producing less diesel and especially less gasoline for its retail operations.
"Given the prolonged duration of the fires and its impact on the supply for our refinery, as well as ongoing planned seasonal maintenance in the industry, our product inventories are greatly reduced," Seetal said.
The company is reporting temporary shortages at Petro-Canada stations in Alberta, Saskatchewan and Manitoba, as well as at sites in the British Columbia Interior.
To help fill the gap, Suncor is bringing in more gasoline and diesel by truck and rail from its own network as well as from third parties.
Seetal added that Suncor is prioritizing supplies to go to stations in areas it has deemed as critical were there are few or no other refuelling options. The company has also designated the town of Fort McMurray as critical.
The gasoline shortage comes as prices have spiked 10 cents a litre in recent days across the Prairies, says Gasbuddy.com petroleum analyst Dan McTeague.
The price increase is more related to two major refineries in the U.S. Midwest also being knocked out and record demand down south, but the Suncor outage isn't helping, he said.
"This is really bad timing,' he said. "There's three not so positive stories for motorists right now."
He said that while the Petro-Canada shortages might not have caused a spike in prices yet, it isn't helping.
"It won't help bring them down. If you have a shortage in the system it'll keep prices up artificially," said McTeague.
Michael Ervin, senior vice-president at energy consultancy the Kent Group Ltd., says the Edmonton outage has already led to a five cent differential in wholesale Western Canadian gas prices compared with Ontario.
(Canadian Press)